A Brief History of CRPCV


In rural Vietnam, eight out of every ten children do not go to school because their parents cannot afford to send them. Due to the lack of basic educational and occupational skills, these children often end up resorting to petty crime in order to survive.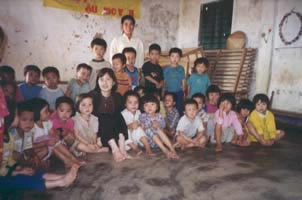 In 1980, Ms. Anh-Huong Nguyen started a charitable project to provide relief to the poor people in Vietnam, her native country. The project now supports poor children and orphans in the remote, war-torn areas of Quang Tri and Thua Thien, where many children have lost their parents to starvation, diseases, and previously unexploded bombs and land mines left from the war.
The Committee for the Relief of Poor Children in Vietnam (CRPCV), a non-profit, tax-exempt organization, has grown out of the original relief efforts of Ms. Anh-Huong Nguyen and is inspired by the teachings of compassion and loving kindness that are central to the Buddhist religious tradition. Assistance is given to children of all religions.